Bao Ye Heng Company has won four of the Product Technology Progress Award and Intellectual Property Rights Award of PALM Expo, they are:
The First Prize of Product Technology Progress Award Winner: C-MARK EOE Public Address and Conference System
The Second Prize of Product Technology Progress Award Winner: DANTE Network Digital Speaker and DANTE Network Audio Processor
The Second Prize of Intellectual Property Rights Award in Audio Catagory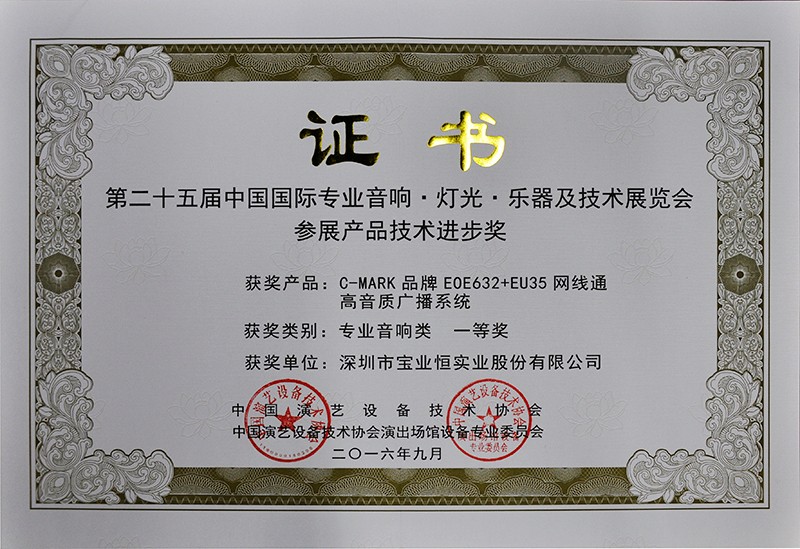 C-MARK EOE Public Address and Conference System adopts new technology to transmit power supply and 48K Hz / 24Bit digital audio signal simultaneously in one CAT~5/6 cable, one EOE632 main unit can connect 16 PoE speakers directly with transmitting distance up to 100 meter for every speaker. It can not only ensure full band high quality sound, but also lower repetitive and fussy wiring construction.
C-MARK EOE632 main unit in standard 19" rack with 1.5U height uses universal power supply of AC100~240V 50/60Hz, includes 4 individual isolated power supply outputs to ensure EACH zone with strong enough power supply and safety.
C-MARK EU35 array column speaker has built-in special decoder, Class D amplifier, 4 pcs high fidelity 3'Neodymium magnet woofer and 1 pc 3" tweeter with high and clear reporduction, low distortion sound. The system features smart size, easy to suspension, clear and precise sound, long distance transmission, no interference and low loss, suitable for applications requiring high sound quality such as conference room, school, worship hall and exhibition hall.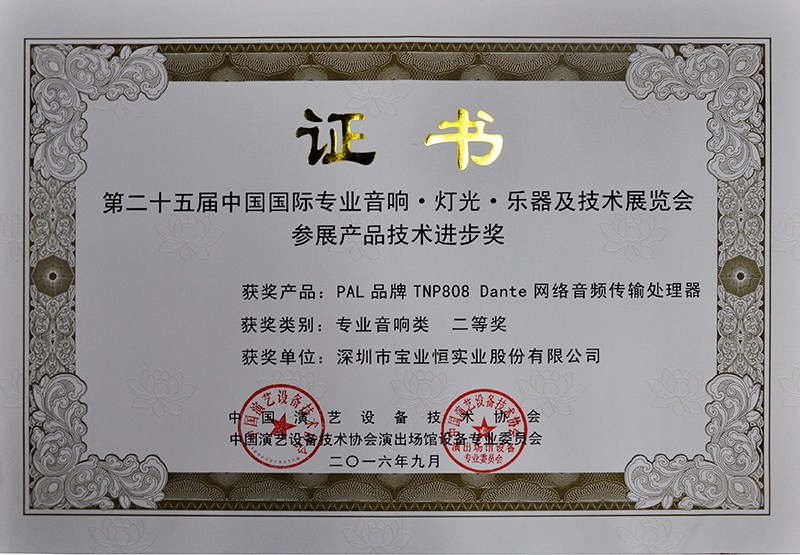 C-MARK ADD1010(PAL TNP808) Network Audio Processor is based on DANTE Protocol, integrated audio signal transmitting, DSP processing, remote controlling and monitoring. It can transmit 1024 channel 48KHz/24Bit umcompressed, low delay(<0.08ms), high quality(CD Class) audio signal with only one CAT6 cable, provides bi-directional audio transmission, control and monitor function. It realize the transmission of audio signal from each point to any point in the newtwork, and that's a breakthrough to the audio transmission technology. It could manage the network equipments through standard Simple Network Management Protocol(SNMP).
C-MARK AD150 DANTE Network Active Loudspeaker is a 15" full range loudspeaker with built-in class D digital amplifier, integrates function of DSP signal processing, network transmission, remote control & monitoring. It features high efficiency, high power output, perfect sound reproduction, complete protection and good compatibility of electromagnetism. Users can monitor and adjust DSP of the loudspeaker remotely through a CAT5/6 line by computer, and receive audio signal from network via the built-in DANTE board. It's self-adaptive to global voltage of AC 100-220V 50/60Hz.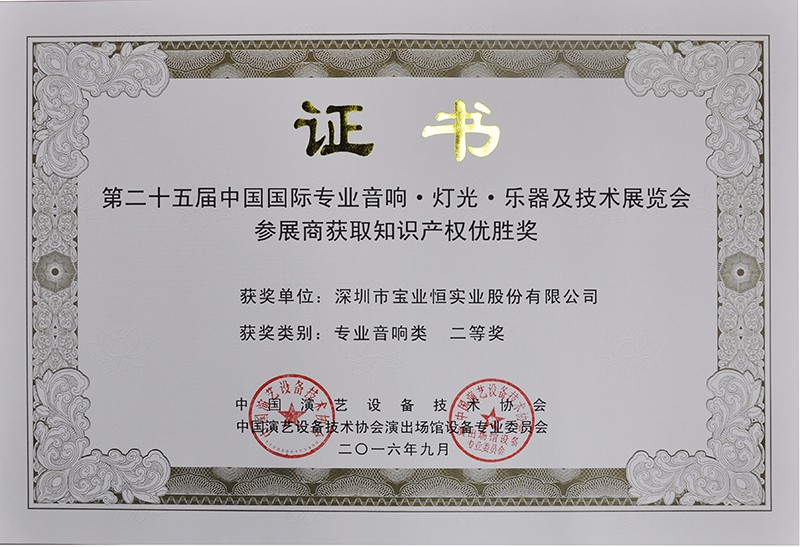 Bao Ye Heng Company always keep the idea of establishing business with technology and quality, adhere to the R&D of new technology and new products, gain rich technical storage in the field of digital mixing, network audio transmitting and processing, digital power amplification, digital audio processing etc. We've won almost ten national patents, including Invention Patent of C-MARK Digital Mixer. We are leading the trend of networking and digitalization in Audio Industry.
On the way to upgrade traditional audio with new technology, Bao Ye Heng Company will overcome difficulties, innovate new products, and write new chapter of technology innovation.